LEDs are the lighting world's hero
Limited Time Offer – $10 Off Every Visionary LED Bulb
Until the end of April we are running a special promotion on Visionary LED bulbs – beautifully designed and long-lasting LED lights assembled right here in Christchurch. These state-of-the-art bulbs are designed to outlast 50,000 hours and come with a 7 year warranty. Get in touch today to take advantage of this offer while it lasts.
Residential, commercial and industrial installations
The Juice team of down to earth, highly experienced registered Master Electricians install LEDs across residential, commercial and industrial properties.
Juice use quality LED fittings, from leading manufacturers including Philips, Switch and Enolt.
Light House Keepers
Turn the lights down low. Relax and enjoy the energy savings created by Juice installing energy efficient LEDs in your home. Enjoy multi-year warranties, long life lighting and lights designed specifically for home use.
Commercial Light Savvy
Juice install LED lighting to make your café, shop, supermarket, school or workplace more inviting. Our lighting plans and installation expertise saves your business time (never change a light bulb again!) and money.
Industrial Light Magic
There's a hard working heavy duty LED available to fit even the most extreme conditions. Juice are experts at sizing up your business needs and finding solutions to create greater light output and energy efficiencies.
---
Home Lighting Solutions
If you had a look at LED lighting a while back and dismissed them as too expensive, it might be time to take another look. LED lighting has come down in price over the past few years, while the quality and life span has gone up.
While you can buy an LED bulb from the supermarket and expect to get 2 years or so of use, replacing the whole light fitting with an LED specific fitting could give you up to 20 years!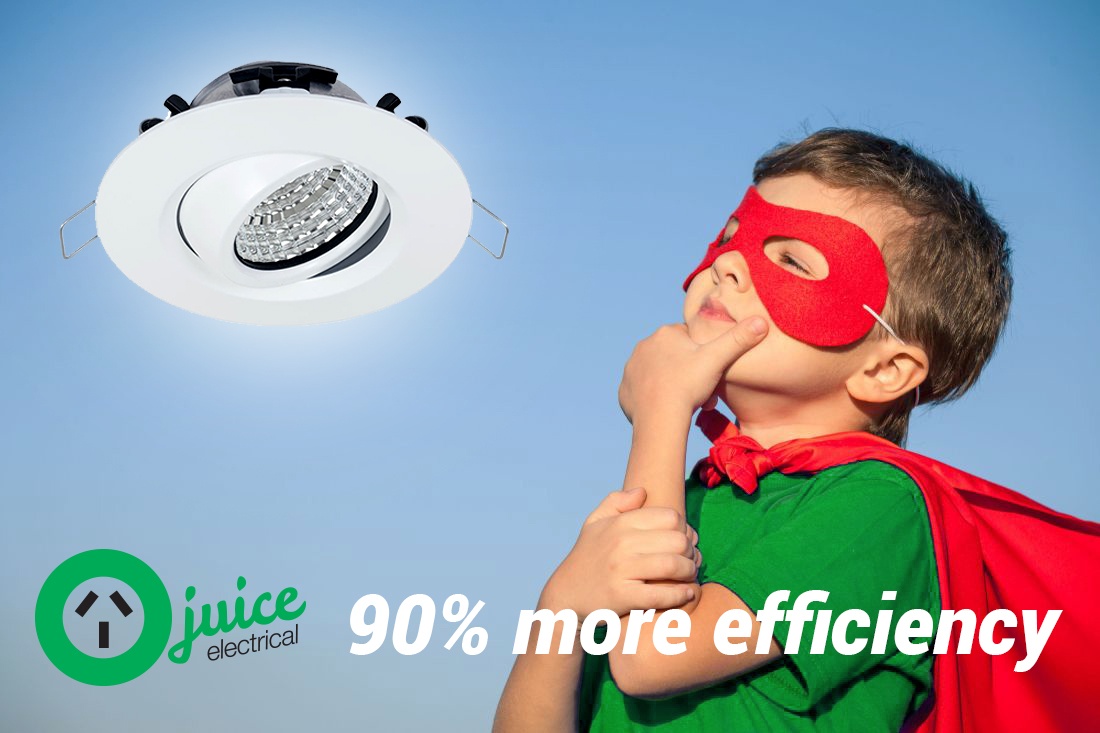 Ideally, for maximum energy efficiency, you would replace all your lights with LED light fittings.
However, if your budget doesn't allow a whole house refit, we have a few handy hints on how to make best use of your budget:
Replace problem lights with LED light fittings – moving other lights around to keep them matching
LED fitted lights will provide better light in high traffic areas and their lifespan is not affected by frequent on/ off action
Often the warmest rooms have the biggest issues, switching to LED light fittings will resolve your issues
---
We are experts at installing quality LEDs
While installing LED lighting into a new house may add $500-$1,500 more to the cost of an average house build, you are future proofing your power bill with energy savings. LED's typically return their initial cost in around a year through power savings if quality fittings are used.